I'm losing ten pounds, leaving my partner and am forgoing my lifelong relationship with salted cashews – again.
How many times do we make that New Year's list of resolutions and by spring time it has melted away with the last of the snow?
The answer to making resolutions you can truly keep is another addition to your Spiritual toolbox – It is Self-Love; in this case, Loving Yourself Enough to Say, "No."  That begins with following the counsel of the Rune Othila – severing ties things and people that no longer serve your well-being. It may even mean saying "no" to things you really like, but aren't aligned in your overall goals. While this can be challenging in the short term, it really is the ONLY way to truly put yourself first and stick to your resolutions.   With only so many hours in the day (and days in your life, hello!), if you don't say "No" to specific situations and people, how can you possibly say "Yes" to yourself enough of the time to do what is truly best for you?
If you aren't used to saying, "No," it is wise to begin slowly. Try the words on like a new pair of boots: Wiggle your toes, get used to the feeling, and take small steps – in no time, you'll be walking a lot taller.
Here's to Saying, "Yes" to you in 2017!
Blessings,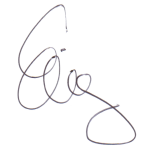 Melissa Mason is an Abstract Expressionist artist creating gestural, large-scale works that are in public and private collections nationally. Her work is incredible: to see more, visit MelissaMason.me