This month's featured art is pure beauty and growth, and in this case, it isn't mine. Seeds are planted and seasons change in an abiding cycle of transition. For me, there is nothing more beautiful than what can be discovered in nature, which, as Lao Tzu said, "does not hurry, yet everything is accomplished."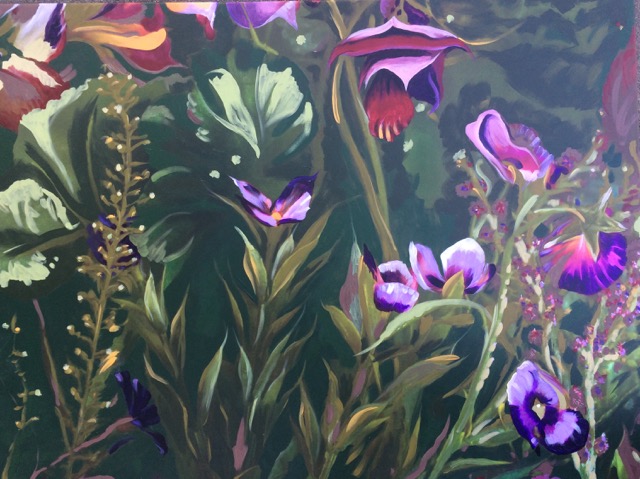 "Sea Garden"
Byron Keith Byrd
40 x 30 inches, acrylic on canvas
Patience is a wonderful addition to every Spiritual Toolbox. Whether you are a brilliant writer, terrific painter, wonderful parent, partner or best friend, there is no situation in the world that doesn't benefit by patience.
Here's the key: patience can never have a negative impact.
With this knowledge, why is waiting so hard? In a world of instant gratification, we want what we want when we want it. The truth is that, applying any amount of patience opens the door for the Universe to step in with a multitude of other possibilities, allowing us the chance to cultivate greater opportunity, and grow, grow, grow.
When it comes right down to it, impatience is an emotional response – one that can be disarmed with a creative approach. Once you plant the seeds of your dreams, here are a few keys to cultivation:
Tune In: We usually "know" when it isn't time to act. Listen to your inner voice: then, follow it.
Visualize the outcome you truly want – feel it, envision it, write it down, share it with a trusted friend. Affirm that your desired outcome unfolds in exactly the right time to be the best it can be.
Go outside: instead of sending the text or worrying, go outside and breathe in fresh air, any time of day. Marvel at the beauty of all growing things, allowing them to remind you that life is a great cycle of growth – one that takes time.
Get creative – whether it's making art or making cookies, the surest way to distract yourself from acting impulsively is by losing track of time doing anything you love.
Meditate: slowing down your brain is probably the fastest track to practicing patience. Dialing back your pre-frontal cortex (the part of your brain in charge of planning) allows for lots of calming side-effects: including new insight into why waiting is ultimately best.
Creatively Yours,