A Spiritual Journey into the Most Cherished Relationship
A Spiritual Journey into the Most Cherished Relationship
Creative Awakenings for Mothers and Daughters
Namaste. Do you have a daughter to whom you'd give the world, or a mother who you'd do anything to share precious, joyful moments? It's time to significantly deepen that relationship, dissolve any barriers and awaken to a new understanding of each other, as woman-to-woman and friend-to friend.
Creative Awakenings for Mothers and Daughters is the place to experience uninterrupted, transformative, creative, connected time with someone you love most in the world, further strengthening the sacred bond that was created the day of birth.
Years fly by, lives shift focus, and time is lost, interrupting you from ever truly experiencing your mother or daughter at the most beautiful, intimate levels. You can awaken this relationship to abiding closeness and growth when emotions are shared, processed and released.
Through proprietary creative practices, Elizabeth Bryan-Jacobs will lead you on a spiritual journey to a true joining of hearts and hands. The sacred grounds of DreamStreet provide an unmatched immersion in nature, where Angel Lake, rushing streams, mystical woods and an ancient glade facilitate a true connection between heart and soul, Mother and Daughter.
Through Creative Awakenings for Mothers and Daughters, you will:
Experience The Wonder and Healing Powers of the Creative Process

Open to a new flow of communication

Understand each other as women who share the same and different joys, hopes and fears

Awaken to each other as separate individuals with your own needs, desires and strengths

Relate to who you each have been in the past, are in the present, and will be in the future
Access another level of bonding that will forever unite and serve you, together and apart

Build a personal creative toolbox to guide your journeys

Express and Translate Your Deepest Feelings and Desires Through the Creation of a High Quality Work of Art

Empower your generation and generations to come

To learn about Creative Awakenings Mothers and Daughters online, click here.
Mixed Media Mother/Daughter Art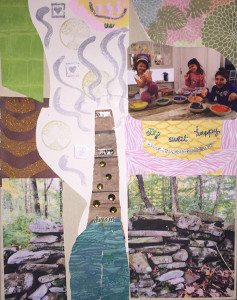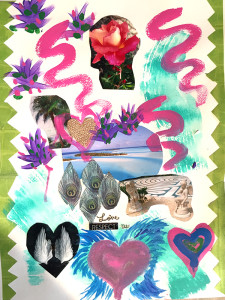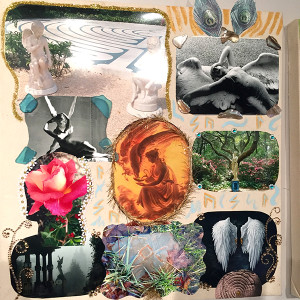 "I loved my time at DreamStreet with my daughter. Ever since she was married and had three children, we haven't had alone time together, and the time at DreamStreet was wonderful!
Elizabeth facilitated us in opening lines of communications again, really listening and hearing the other person. The art creative processes were something I have never done before, and I found that illuminating. It was a fun, very special time!
The tranquility and beauty there is so special – no TV, loud noise, etc. The beauty of nature is all around the property, and meditating together was precious. It is so serene. Even just paddling around the lake by ourselves was another special time! The family of geese came to be with us every day, and we were even visited by a bald eagle! The historic lake house will always be in my memory as such a peaceful place, and I will think about it whenever things get hectic at home.
I will also never forget Bob's very special meals. We felt like we were eating in a five star restaurant! He is such a creative cook who comes up with the most delicious meals.
I will always treasure those 4 days alone with my beautiful, sweet daughter! Thank you so much, Elizabeth"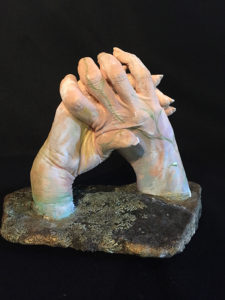 "Timeless Bond" Life cast, Mother/Daughter hands, plaster, paint, fossilized bluestone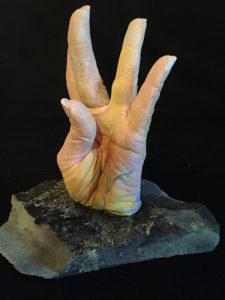 "Heidi", Life cast, plaster, paint, fossilized bluestone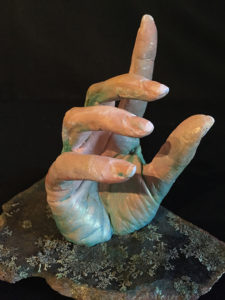 "Dianne", Life cast, plaster, paint, fossilized bluestone
"I spent an incredibly poignant and heartfelt five days with Dianne and Heidi during their Mother/Daughter Awakening. I was privileged to creatively facilitate them in accessing and navigating a sea of beautiful emotions that gave rise to a true transformation of their Mother/Daughter path that will serve them forever. Together and apart, they fully expressed their Soul's Voices, embraced their inner beings and deeply understood each other and a whole new level. This empowering, touching experience further strengthened their incredible connection and proved, once again, that the Mother/Daughter bond is the most powerful bond of all."
Elizabeth Bryan-Jacobs