The "Spread Your Wings Journey" was full of so many "Miracle Moments," I was inspired to create a whole new series of posts in order to share them.

The "Art of Giving" day was bustling, exciting and full of Love, with a dozen artists uniting to create art with kids in the hospital and kids from the community. Deanne Breedlove and I were immersed in the joy of working with the children who could attend – but we were also well aware of those too ill to be in the community room with the rest of us. We made a special request to bring canvas "feathers" and paint to kids who were not well enough to be at the main event.
Paint and "feather" in hand, we were ushered to a cloistered area of the main lobby, where we met Liv, age 8, and her mom, Jennifer. Miracle Moment #1 occurred when Deanne and Jennifer realized they knew one another – Shawn Breedlove and Jennifer had been in worship team together for church! This decades-old connection created an instant level of comfort: Jennifer also knew that Deanne had lost her own son, Ben to a heart condition, just a few years earlier. And, there we were, ready to help Liv paint an angel "feather."
The oldest of four, Liv had been born with half a heart, and was having a difficult recovery from her third surgery. The very first thing that Jennifer shared was an INCREDIBLE flyer sweet Liv had made for other hospitalized kids. We were so moved that a child going through all she had and was still experiencing was offering her Love and support to other children: Miracle Moment #2.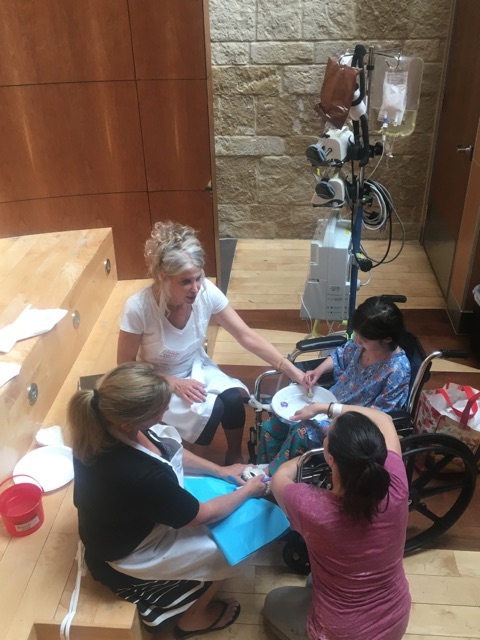 Liv was in a significant amount of pain, and Deanne offered up her lap for Liv to rest her tiny feet as she painted. I couldn't help but think of Deanne doing the same with Ben, whose presence was somehow everywhere that entire day. As Deanne ministered to Liv in that moment, it was all I could do to hold back tears.
With tiny tubes of glitter glue and paint, I helped Liv create her beautiful and treasured feather.  Her eyes lit up as she painted, and we all watched in silence, humbled and united in this amazing experience.
Deanne and I left the hospital that day, but it would be several weeks before Liv could go home. During that time, we sent her coloring books and markers, photos and other reminders of her Art of Giving experience. Deanne stayed on top of Liv's progress as much possible – her hospital room was decorated like crazy, and Deanne let me know that photos of us painting together had been blown up and put in a very prominent place for Liv's continual viewing.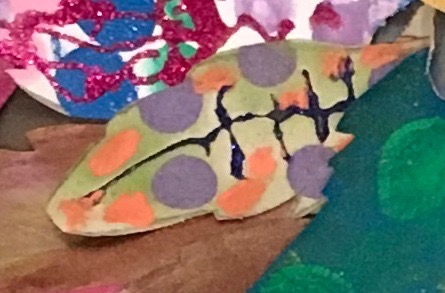 Liv's feather was the very last one I put into the final wings – I wanted to be sure it had a prominent place, should Liv ever see the entire piece.
Miracle Moment #3 was about to begin: Dell's amazing Art Therapist, Elizabeth Hendley, let me know that Liv was not only out of the hospital, she was to be honored at the Dell Children's Trust Giver Gallery – and, would I "mind" gifting little Liv with a 12 x 12 inch painting, and "saying a few words." Would I mind?? I couldn't wait to get on that plane to Austin and see Liv!
When the Breedloves, my husband Bobby and I arrived at the gallery, there was smiling, beautiful Liv, well and healthy, along with her adorable sister and parents. The light in Liv's eyes and her gorgeous smile said it all: this child, her faith and her recovery had opened everyone's hearts, bringing us all together in this Miracle Moment.
Liv's mom, Jennifer was asked to speak at the event – this is what she shared:
"The days in the hospital were such a blur…we couldn't go into the Art of Giving event because Liv was so uncomfortable, and couldn't stand the smell of the popcorn!  We happened to be in the lobby area, and there were Elizabeth and Deanne.  Painting that feather with Elizabeth made Liv feel like a child again- not a patient in the hospital.  Later, someone blew up big photos of Liv painting with Elizabeth to hang on walls of Liv's hospital room – that experience was the ONE THING that stood out for Liv, that she clearly – it had such an impact on her.  She couldn't wait to see her "feather" in the finished piece of art!
More tears of joy and gratitude from me!
Miracle Moment #4 happened between Liv and Bobby: Precious Liv let Bobby know that, every day, she had looked out the window at "Gabriel," the beautiful angel wing sculpture that Bobby had donated to Dell in honor of Ben Breedlove. And, that she had even gone outside and touched it!
We are eternally grateful to have shared this miraculous, full-circle experience with Dell, the Breedloves and the Henkes. I am continually reminded of this quote: "When feathers appear, Angels are near." To Liv, the Breedloves, to Dell's own Susan Hewlitt, Suellen Brown, Elizabeth Hendley, and of course, to my husband Bobby, you are all Angels to me.
Namaste,